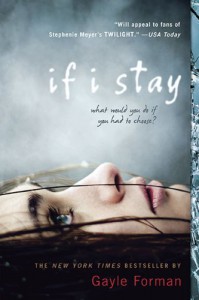 3.5 Stars, then again this actually made me cry so 4.5 stars!
Wow, I actually broke down and cried in several places. Yeah this was slow, but I didn't mind that. HOWEVER I think it could have been improved in several areas. Mainly the writing could have been polished in places, and I kind of wish Mia's voice was a bit stronger. Now don't get me wrong, I liked Mia, but I felt like her voice could have came out a bit stronger, then again that's probably just me suffering from too much essay-writing and studying lol.
But the novel's message was clear:
When everyone you love is gone, do you stay?
I mean I've been exploring this in another novel of mine for nearly 4 years now, which reminds me I really should finish it off...whoops?
The intake of Mia's tragic story unfolds with her primarily reliving various events of her life in flashbacks while everyone else waits and watches over Mia's body that in the ICU. The choices and the decisions that Mia weighs upon in order to let go or to stay really do resonate with readers. I mean I've certainly thought about myself, would I stay or go if I was in Mia's shoes? Still to this day I'm uncertain, but I do have an idea what I'd do. That's a secret though. <3<br/>
Poignant and beautifully written, I loved how much of the emotional impact is laid upon the reader when reading various parts, I know I shed some tears here and there.
Yet there's something about this story that I know will remain a part of me, especially the haunting question that we all face at one time or another in life:
If I stay what will happen?